Solar Panels for RV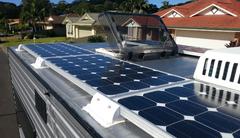 For most RV users, there are two main reasons you may consider adding solar panels, or wanting an RV with them already installed:
To charge your "house" batteries — Solar power provides a slow, steady charge to your RV batteries. This is actually the way batteries are made to be charged, which in turn maximizes the life of the battery.
To provide electrical power — If your RV is in an off-grid location, or as back-up power for emergencies.
Click Here To View All Options
Off-Grid Solar Power for RVs, Boats & Cabins
Off-grid solar panel kits provide solar power for remote locations, RVs, boats, and cabins. Key components in an off grid solar system are solar panels, batteries, and off-grid inverters.